POSITIONED TO BLESS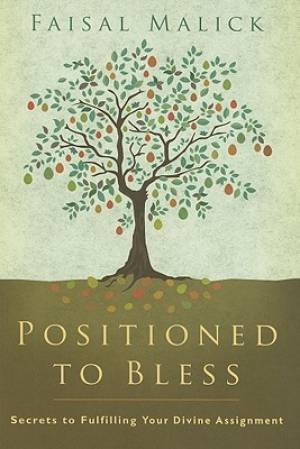 Secrets to Fulfilling Your Divine Assignment
This book is a response from God's heart to the cry of millions of people, gifted yet frustrated, anointed yet isolated stuck living in the shadows yet called to live in the light. It uncovers ancient kingdom strategies that will reposition you into your seat of authority to fulfill your divine as signment. This groundbreaking guide is a strategic handbook – a Holy Spirit GPS – to your destiny.
DISCOVER HOW TO:
- Conquer your Giants & Unleash your Hidden Potential
- Navigate through the Wilderness into the Promised Land
- Leave a Legacy that Will Transform Generations to Come

ENDORSEMENTS:

"Have you ever thought something or someone is opposing your destiny? You're right. Are you stuck in the same place you were five years ago? Faisal Malick uncovers ancient Kingdom strategies to get you to your assignment. This book is a Holy Spirit GPS to destiny!"

-Sid Roth
Host, "It's Supernatural!"

"Faisal Malick has a unique perspective on the Body of Christ. As a Muslim who was called by Christ and answered the call, he has experienced spiritual warfare and the power of Christ in ways many of us have never known. He shares this perspective with us in his new book, Positioned to Bless. He unveils the secrets of overcoming every test and trial life presents in order to reach the authority and position God has intended for us. Faisal's book is instructive as well as prophetic. His ministry is fueled by the love of God."

-Dr. Ron Burgio
President, Elim Fellowship, Lima, NY
Senior Pastor, Love Joy Gospel Church, Lancaster, NY

"Do you want to effectively influence others with the Father's love, integrity, and truth? Do you desire to finish your course strong? If so, this book is for you. Faisal Malick shares important insights and revelations for the development of mature, faithful, believers in Christ. Positioned to Bless invites you to engage in a valuable journey that will posture you to be blessed and to bless."

-Patricia King
www.xpmedia.com

PURCHASE YOUR COPY TODAY!
ORIGINAL PRICE: $19.95